Learning Spanish colors can be fun and interactive, and online games are a great way to make it engaging. Here are some tips on how to learn Spanish colors effectively using games: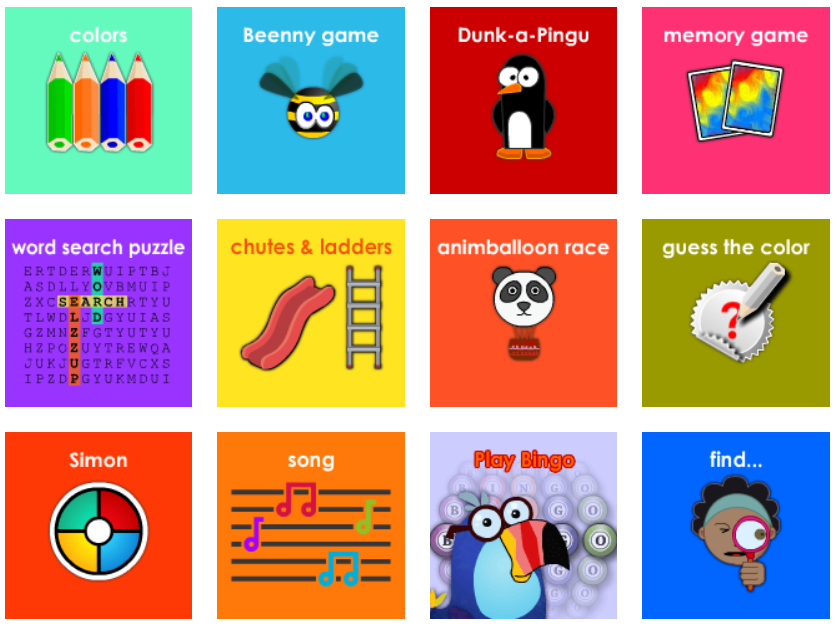 Start with simple matching games: Matching games can help you associate the Spanish color words with their corresponding colors. Look for games where you must match the color name with the correct color swatch or object.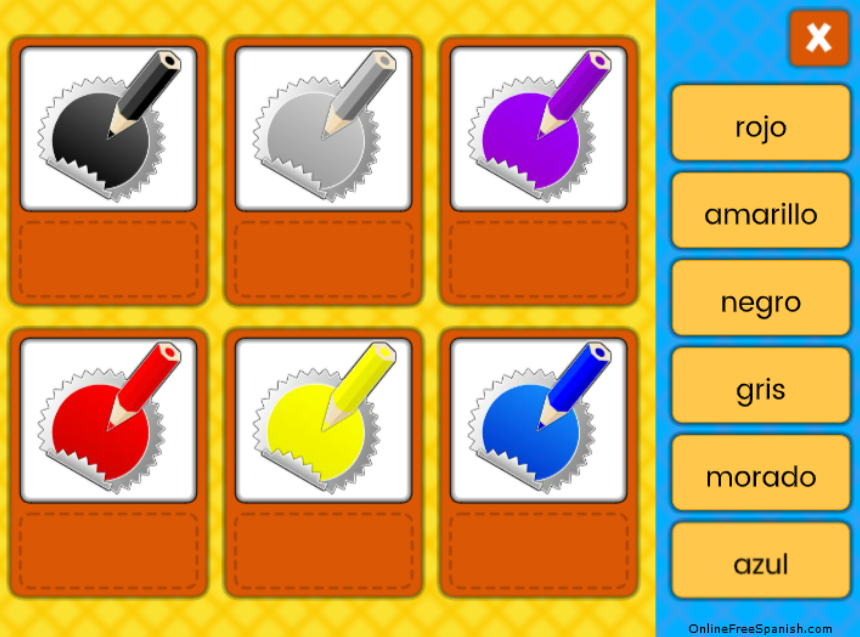 Play memory games: Memory games can improve memory and reinforce your knowledge of Spanish colors. Look for games where you have to flip over cards and match pairs of colors and their names.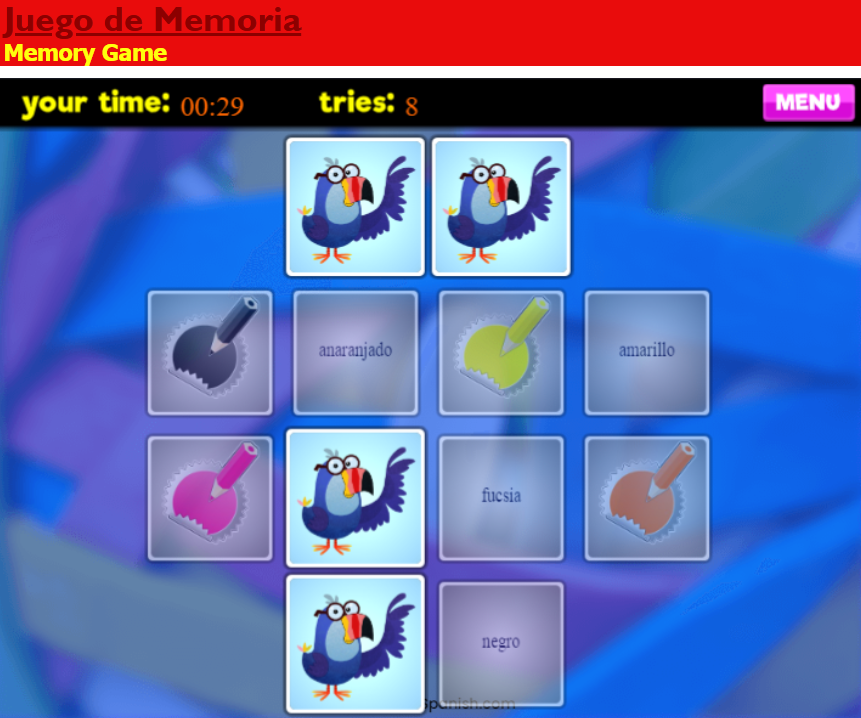 Try interactive coloring games: Look for coloring games where you can digitally color different objects using the correct color's Spanish names. This game can help you practice both vocabulary and spelling.
Seek out quizzes and challenges: Look for games that test your knowledge of Spanish colors through quizzes or challenges. These can help you practice recalling colors quickly and accurately.
Practice speaking aloud: As you play the games, try to say the Spanish color names out loud. This process will help you reinforce your pronunciation and speaking skills.
Track your progress: Some games may offer progress tracking or scoring systems. Keep an eye on your scores and try to improve over time. Keeping the score in the games can provide motivation and help you monitor your learning progress.

Remember to have fun and enjoy the process of learning Spanish colors. Regular practice and exposure to the language will help you reinforce your knowledge and improve your fluency. ¡Buena suerte! (Good luck!)
________________________________________________________________________________________________________
¡Aprende los colores en español con juegos!
Aprender los colores en español puede ser divertido e interactivo, y los juegos en línea son una excelente manera de hacerlo atractivo. A continuación nombramos algunos consejos sobre cómo aprender los colores en español de manera efectiva usando juegos:
Familiarízate con el vocabulario: Antes de comenzar a jugar, tómate un momento para repasar los nombres de los colores en español. Presta atención a la ortografía y pronunciación de cada color.
Comienza con juegos de combinación simples: los juegos de combinación pueden ayudar a asociar las palabras de colores en español con los colores correspondientes. Busca juegos en los que debas hacer coincidir el nombre del color con la muestra u objeto del color correcto.
Juega juegos de memoria: los juegos de memoria pueden mejorar la memoria y reforzar tu conocimiento de los colores en español. Busca juegos en los que tengas que voltear cartas y unir pares de colores y sus nombres.
Prueba los juegos de colorear interactivos: busca juegos de colorear en los que puedas colorear digitalmente diferentes objetos usando los nombres en español de los colores correctos, este juego puede ayudarte a practicar tanto el vocabulario como la ortografía.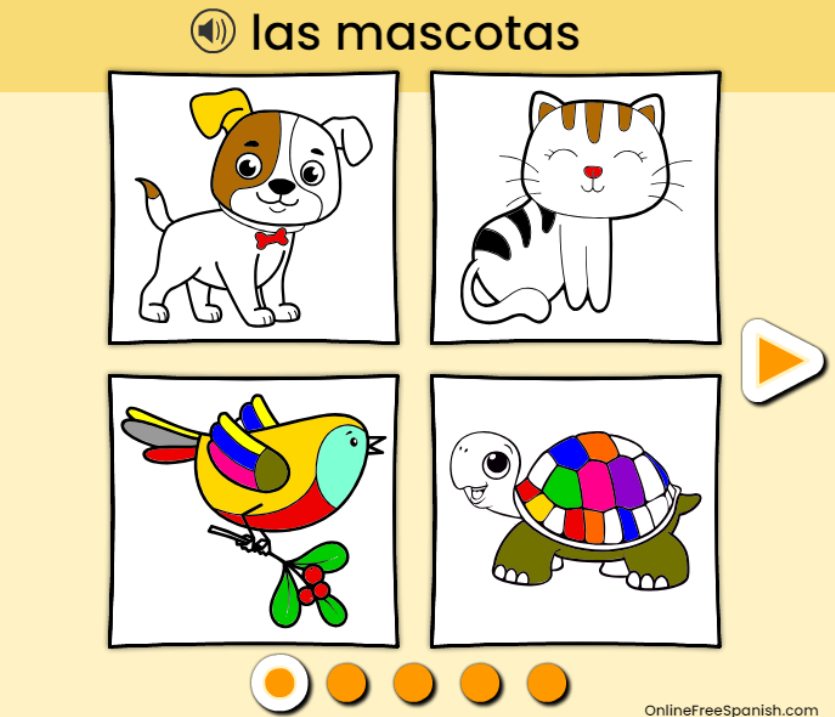 Busca pruebas y desafíos: busca juegos que pongan a prueba tu conocimiento de los colores en español a través de pruebas o desafíos, estos pueden ayudarte a practicar y a recordar colores de manera rápida y precisa.
Práctica hablar en voz alta: mientras juegas, trata de decir los nombres de los colores en español en voz alta, este proceso te ayudará a reforzar tu pronunciación y tus habilidades para hablar.
Seguimiento de su progreso: algunos juegos pueden ofrecer seguimiento de tu progreso o sistemas de puntuación. Vigila tus puntajes e intenta mejorar con el tiempo. Llevar el puntaje en los juegos puede motivarte y ayudarte a monitorear tu progreso en el aprendizaje.
Recuerda divertirte y disfrutar el desarrollo de enseñanza de los colores en español. La práctica regular y la exposición al idioma te ayudarán a reforzar tus conocimientos y mejorar tu fluidez. ¡Buena suerte!
Leave your comments at the bottom; they are essential to us, and please share onlinefreespanish with everybody. Remember, it's free!
Hasta pronto amigos,
Claudia,
The team of
OnlineFreeSpanish.com
A Fun Way to Learn Spanish
For kids of all ages.
Facebook: onlinefreespanish
Twitter: freespanish
YouTube: onlinefreespanish
Pinterest: freespanish