Knowing the date, day, and time in Spanish, matter is essential for several reasons:
Communication and Scheduling: Expressing and understanding dates, days, and times in Spanish permits effective communication and scheduling with Spanish-speaking individuals. Whether you're arranging meetings, appointments, or social gatherings, accurate time-related information is crucial to avoid misunderstandings or missed opportunities.
Travel and Navigation: When traveling to Spanish-speaking countries, knowing the local date and time helps you adjust to the new time zone, plan activities, catch transportation, and navigate unfamiliar places more smoothly. It also enables you to coordinate with locals and ask for directions.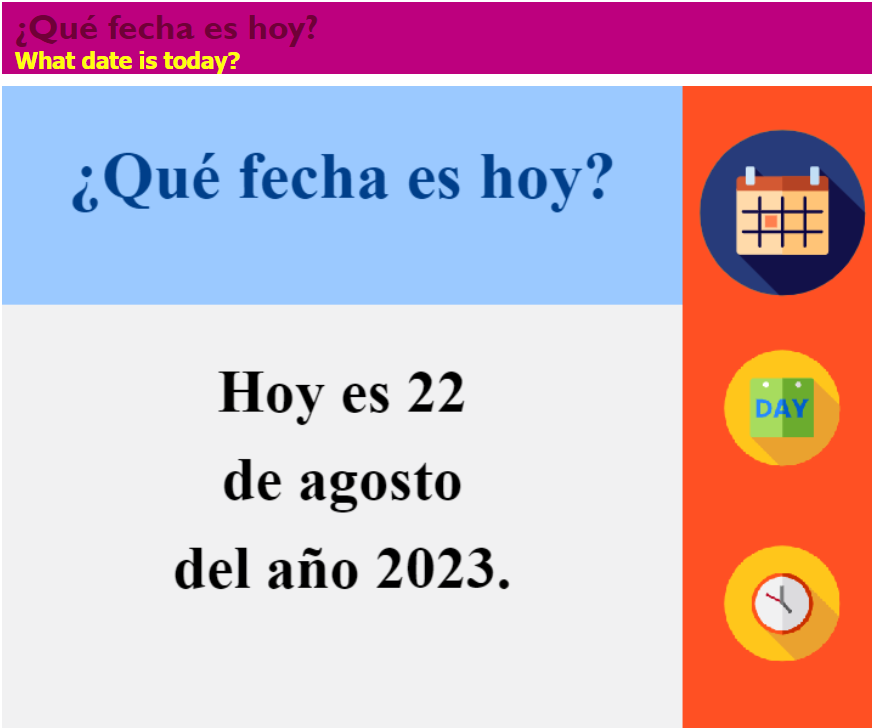 Business and Professional Interaction: Businesses often operate across time zones and cultures in a globalized world. Understanding and using the appropriate date and time formats in Spanish can enhance your professionalism and facilitate international collaborations.
Cultural Awareness: Learning how dates, days, and times are expressed in Spanish fosters cultural awareness and respect for the customs of Spanish-speaking regions. It shows your interest in understanding and adapting to the local way of life.
Language Proficiency: Mastering date and time expressions in Spanish demonstrate your proficiency and shows you're committed to learning and using the language in practical situations.
Personal Interactions: Whether you're connecting with Spanish-speaking friends, family members, or colleagues, discussing dates and times allows for meaningful conversations and bonding experiences.
We invite you to use OnlineFreeSpanish because it is a resource for learning about the days of the week in Spanish. Knowing the date and days in Spanish is essential to language learning, as it's a fundamental part of everyday communication. Learning the days of the week helps you navigate daily life, make plans, and engage in casual conversations.
Knowing the date, day, and time in Spanish is essential for effective communication; in OnlineFreeSpanish, you have the pronunciation for the date, day, and time in Spanish with native audio. We invite you to begin your class with the date in OFS.
__________________________________________________________________________________________________________
Saber la fecha, el día y la hora en español es fundamental por varios motivos:
Comunicación y programación: expresar y comprender fechas, días y horas en español permite una comunicación y una programación efectiva con las personas de habla hispana. Ya sea que se estén organizando reuniones, citas o encuentros sociales, la información precisa y relacionada con el tiempo es crucial para evitar malentendidos o pérdida de oportunidades.
Viajes y navegación: cuando viaja a países de habla hispana, conocer la fecha y hora locales lo ayuda a adaptarse a la nueva zona horaria, planificar actividades, tomar transporte y navegar por lugares desconocidos con mayor facilidad. También le permite coordinar con los lugareños y pedir direcciones.
Interacción empresarial y profesional: En un mundo globalizado, las empresas suelen operar en zonas horarias y culturas diferentes. Comprender y utilizar los formatos apropiados de fecha y hora en español puede mejorar su profesionalismo y facilitar las colaboraciones internacionales.

Conciencia cultural: aprender cómo se expresan las fechas, los días y las horas en español fomenta la conciencia cultural y el respeto por las costumbres de las regiones de habla hispana. Demuestra su interés por comprender y adaptarse al modo de vida de cada ciudad.
Dominio del idioma: Dominar las expresiones de fecha y hora en español demuestra su dominio y demuestra que está comprometido en aprender y utilizar el idioma en situaciones prácticas.
Interacciones personales: ya sea que se conecte con amigos, familiares o colegas de habla hispana, discutir fechas y horarios, le permite conversaciones significativas y experiencias de vinculación.
Lo invitamos a utilizar OnlineFreeSpanish porque es un recurso para aprender sobre los días de la semana, los meses y la hora en español. Saber la fecha y los días en español es fundamental para el aprendizaje de idiomas, ya que es una parte fundamental de la comunicación diaria.
Aprender los días de la semana te ayuda a navegar la vida diaria, hacer planes y entablar conversaciones informales. En OnlineFreeSpanish tienes la pronunciación de la fecha, día y hora en español con audio hablado por un nativo. Te invitamos a comenzar tu clase con la fecha en OFS.
¡Les deseamos una fantástica experiencia de regreso a clases!
¡Por un año escolar fantástico, lleno de crecimiento, conocimiento y momentos memorables!
Hasta pronto amigos,
Claudia,
The team of
OnlineFreeSpanish.com
A Fun Way to Learn Spanish
For kids of all ages.
Facebook: onlinefreespanish
Twitter: freespanish
YouTube: onlinefreespanish
Pinterest: freespanish