Learning Spanish with bingos can be a fun and interactive way to practice vocabulary and comprehension skills. Using onlinefreespanish.com, you can play bingo games with Spanish words.
Here's how you can do it:
Visit the website: Go to OnlineFreeSpanish bingos! in your browser.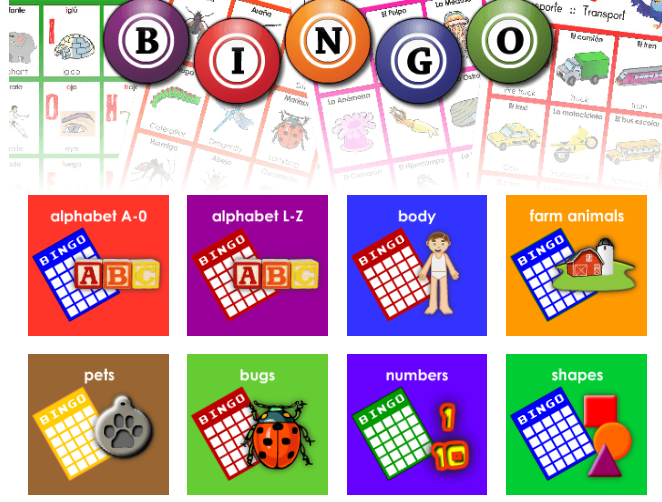 Choose a bingo game: On the page, you will find cards with various themes such as colors, numbers, animals, etc. Select the bingo card that matches the vocabulary or topic you want to practice.
Print the bingo card: Click on the card image you wish to use; the card will open in a new tab or window. Use your web browser's printing functionality to print all the bingo cards.
Play the bingo game: Gather some friends or family members, or play by yourself. If playing with others, you can take turns being the caller. The caller randomly selects Spanish words from the list at the bottom of the bingo card and reads them aloud.
Mark the words: As the caller reads the Spanish words, mark the corresponding words on your bingo card. If you have multiple bingo cards, use different markers or pencils to differentiate them.
Call "Bingo!": If you successfully mark a complete row, column, or diagonal on your bingo card, call out "Bingo!" The caller will verify your card to ensure you have correctly marked all the words.
Practice and repeat: Play the bingo game multiple times with different cards and themes; this will help you reinforce your vocabulary and improve your recognition of Spanish words.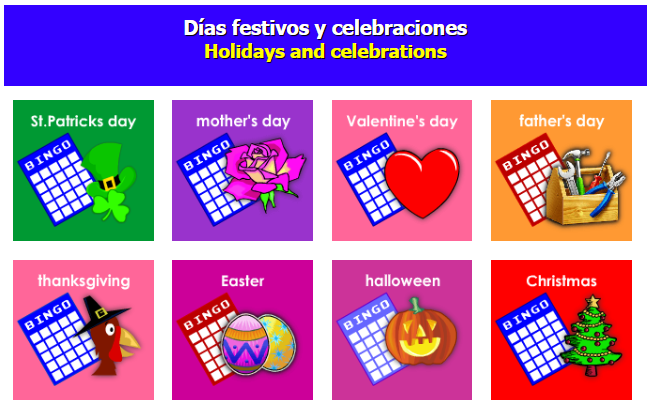 Expand vocabulary: Remember the new Spanish words you encounter while playing the game. Please take note of unfamiliar words and their meanings. You can use a Spanish-English dictionary to look up the translations or definitions.
Create your bingo cards: For further practice, consider creating your bingo cards with specific themes or vocabulary you want to focus on. You can use the bingo cards creator generator tool to make custom cards.
Remember that the key to successful language learning is regular practice and immersion. Playing bingo games regularly and using Spanish words in daily conversations will significantly enhance your language skills.
Have fun, and enjoy the learning strategy! ¡Buena suerte! (Good luck!)
________________________________________________________________________________________________________
Aprender español con bingos puede ser una forma divertida e interactiva de practicar el vocabulario y las habilidades de comprensión en español. ¡Usando onlinefreespanish.com, puedes jugar bastantes bingos!
Visita https://onlinefreespanish.com/aplica/lessons/bingosPrint/bingosgame.htm.
Elige un bingo: en la página de OnlineFreeSpanish encontrarás cartones con varios temas como colores, números, animales, etc. Selecciona el cartón de bingo que coincida con el vocabulario o tema que quieras practicar.
Imprime la tarjeta de bingo: haz clic en la imagen de la tarjeta que deseas utilizar; la tarjeta se abrirá en una nueva pestaña o ventana. Utiliza la funcionalidad de impresión de tu navegador para imprimir todas las tarjetas del bingo.


Juega el bingo: reúne algunos amigos o familiares, o por qué no, juega solo. Si juegas con otros, puedes turnarte para ser el que llama el bingo. La persona que llama selecciona al azar palabras en español de la lista en la parte inferior de la tarjeta de bingo y las lee en voz alta.
Marca las palabras: mientras la persona que llama lee las palabras en español, marca las palabras correspondientes en tu tarjeta de bingo. Si tienes varios cartones de bingo, usa diferentes marcadores o lápices para diferenciarlos.
Llama "¡Bingo!": si marcas con éxito una fila, columna o diagonal completa en tu tarjeta de bingo, di "¡Bingo!" La persona que llama verificará tu tarjeta para asegurarse de que hayas marcado correctamente todas las palabras.
Practica y repite: juega el bingo varias veces con diferentes cartones y temas; esto te ayudará a reforzar tu vocabulario y mejorar tu reconocimiento de palabras en español.
Amplía el vocabulario: recuerda las nuevas palabras en español que encuentra mientras juegas. Toma nota de las palabras desconocidas y sus significados. Puedes utilizar un diccionario español-inglés para buscar las traducciones o definiciones.

Crea tus cartones de bingo: para practicar más, considera crear tus cartones de bingo con temas o vocabulario específicos en los que te quieras enfocar. Puedes usar una herramienta de creación de cartones de bingo para crear bingos personalizados.
Recuerda que la clave para el éxito en el aprendizaje de idiomas es la práctica. Jugar bingo regularmente y usar palabras en español en conversaciones diarias mejorará significativamente tus habilidades lingüísticas.
¡Diviértete y disfruta de la estrategia de aprendizaje! ¡Buena suerte! (¡Buena suerte!)
Leave your comments at the bottom; they are essential to us, and please share onlinefreespanish with everybody. Remember, it's free!
Hasta pronto amigos,
Claudia,
The team of
OnlineFreeSpanish.com
A Fun Way to Learn Spanish
For kids of all ages.
Facebook: onlinefreespanish
Twitter: freespanish
YouTube: onlinefreespanish
Pinterest: freespanish