In the dynamic world of language learning, revisiting previously taught content must be emphasized more. Many students may occasionally question whether their teachers are squandering valuable class time by reviewing old material instead of plowing forward with new lessons. However, the truth is that revisiting and reinforcing what you've already learned is a pivotal aspect of language acquisition. "Knowing less's better, but knowing it well" holds in language learning. Additionally, we will introduce you to an invaluable resource, OnlineFreeSpanish, which will help you practice and perfect your Spanish skills.
Learning a new language is akin to constructing a sturdy bridge. A strong foundation is essential to support the structure. Reviewing previously taught content is equivalent to strengthening the foundation of your language skills. Here's why you should embrace the art of review:
Language learning is about building a foundation of grammar, vocabulary, and pronunciation. Reviewing what you've already learned reinforces this foundation, making it less likely to crumble as you advance to more complex concepts.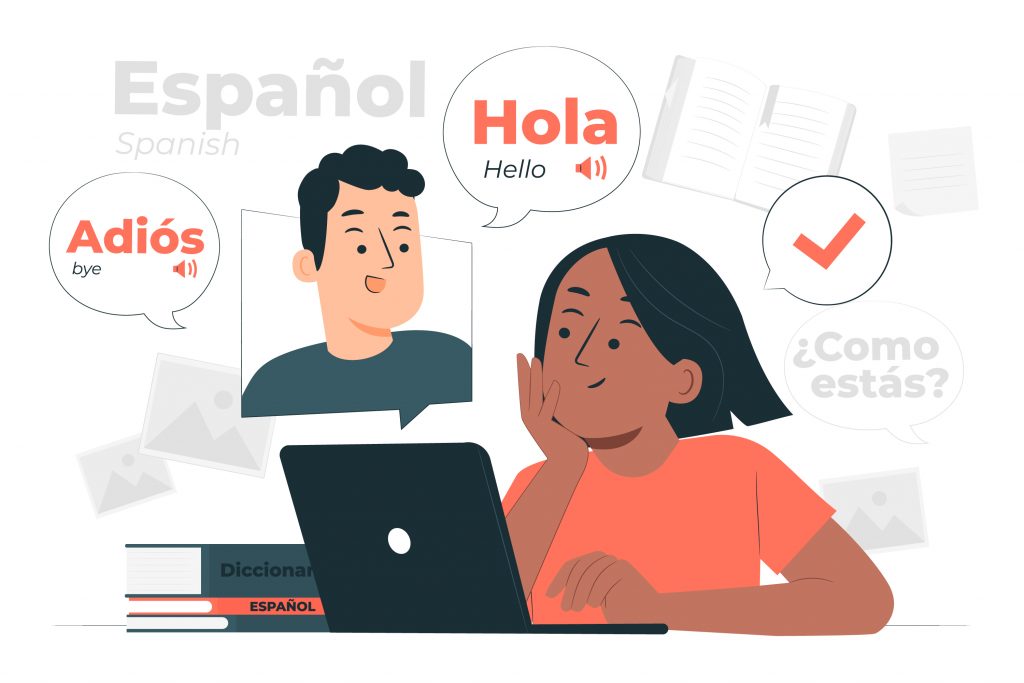 Quality should always precede quantity in the quest for language proficiency. Rushing through lessons might give the illusion of progress, but actual knowledge comes from an in-depth understanding of the basics. Knowing a smaller amount of material is better than skimming the surface of a wide range of topics.
Regularly revisiting and applying previously learned concepts builds your confidence. A confident language learner is likelier to tackle new material with enthusiasm and success.

One of the most effective methods for reviewing and reinforcing your Spanish skills is through practice, especially speaking. Language needs to be used to express real-life situations. OnlineFreeSpanish can help you in your class.
OnlineFreeSpanish is a user-friendly, web-based resource that offers many interactive activities tailored to help you review and enhance your Spanish language skills. Here's how it can benefit you:
The platform provides a variety of exercises and activities that focus on improving your pronunciation and conversational abilities. Speaking is integral to language learning, and OnlineFreeSpanish offers ample opportunities to practice it.
The platform features engaging vocabulary games and exercises that help you expand your word bank. Vocabulary is a cornerstone of language learning; consistent review ensures you retain what you've learned.
OnlineFreeSpanish offers exercises to reinforce grammar rules and sentence structure. Proper grammar is essential for effective communication; regular review ensures you remember these fundamental elements.
Learning a language is not just about words and grammar; it's also about understanding the culture. OnlineFreeSpanish often incorporates cultural insights into its lessons, giving you a holistic language learning experience.
In learning Spanish, reviewing content taught by your teacher is not a waste of time but rather a crucial step toward mastery. As the saying goes, "don't hurry; it's better to know less, but know it well." Embrace the practice of review, and consider the power of speaking. OnlineFreeSpanish is your ideal companion on this linguistic adventure, offering a wealth of resources to aid you in your pursuit of Spanish fluency. So, take your time, review diligently, speak confidently, and watch your Spanish skills flourish. ¡Buena suerte!
_____________________________________________________________________________________________________________
En el dinámico mundo del aprendizaje de idiomas, debe de hacerse más hincapié en revisar el contenido enseñado anteriormente. En ocasiones, muchos estudiantes pueden preguntarse si sus profesores están desperdiciando un tiempo valioso en la clase, revisando el material antiguo, en lugar de seguir adelante con lecciones nuevas. Sin embargo, la verdad es que revisar y reforzar lo que ya se ha aprendido es un aspecto fundamental de la adquisición del idioma. "Saber menos es mejor, pero saberlo bien" se aplica al aprendizaje de idiomas.  OnlineFreeSpanish, que te ayudará a practicar y perfeccionar tus habilidades en español.
Aprender un nuevo idioma es similar a construir un puente resistente. Una base sólida es esencial para soportar una estructura. Revisar el contenido enseñado previamente, equivale a fortalecer la base de tus habilidades lingüísticas.
El aprendizaje de idiomas consiste en construir una base de gramática, vocabulario y pronunciación. Repasar lo que ya has aprendido refuerza esta base, haciendo menos probable que se desmorone a medida que avanzas hacia conceptos más complejos.
La calidad siempre debe preceder a la cantidad en la búsqueda del dominio del idioma. Acelerar las lecciones puede dar la ilusión de progreso, pero el conocimiento real proviene de una comprensión profunda de los conceptos básicos. Conocer una cantidad menor de material es mejor que hojear la superficie de una amplia gama de teams.
Revisar y aplicar periódicamente conceptos aprendidos previamente aumenta la confianza. Es más probable que un estudiante seguro de idiomas, aborde un nuevo material con entusiasmo y éxito.
Uno de los métodos más efectivos para revisar y reforzar tus habilidades en español es a través de la práctica, especialmente hablando. Es necesario utilizar el lenguaje para expresar situaciones de la vida real. OnlineFreeSpanish puede ayudarte en tu clase.
OnlineFreeSpanish es un recurso fácil de usar basado en la web que ofrece muchas actividades interactivas diseñadas para ayudarle a revisar y mejorar sus habilidades en el idioma español.
OnlineFreeSpanish ofrece una variedad de ejercicios, juegos y actividades que se centran en mejorar tu pronunciación y tus habilidades conversacionales. Hablar es parte integral del aprendizaje de idiomas y OnlineFreeSpanish ofrece amplias oportunidades para practicar el español.
Esta plataforma presenta atractivos juegos de vocabulario y ejercicios que te ayudarán a ampliar tu banco de palabras. El vocabulario es la piedra angular del aprendizaje de idiomas; la revisión constante garantiza que retengas lo que has aprendido.
OnlineFreeSpanish ofrece ejercicios para reforzar las reglas gramaticales y la estructura de las oraciones. La gramática adecuada es esencial para una comunicación eficaz; la revisión periódica garantiza que recuerdes estos elementos fundamentales.
Aprender un idioma no se trata solo de palabras y gramática; también se trata de comprender la cultura. OnlineFreeSpanish a menudo incorpora conocimientos culturales en sus lecciones, brindándote una experiencia integral de aprendizaje de idiomas.
Al aprender español, revisar el contenido enseñado por tu profesor no es una pérdida de tiempo, sino más bien un paso crucial hacia el dominio. Como dice el refrán, "no te apresures, es mejor saber menos, pero saberlo bien". Adopta la práctica de revisar y considera el poder de hablar. OnlineFreeSpanish es tu compañero ideal en esta aventura lingüística, ya que ofrece una gran cantidad de recursos para ayudarte en tu búsqueda de la fluidez en español. Así que tómate tu tiempo, repasa con diligencia, habla con confianza y observa cómo florecen tus habilidades en español. ¡Buena suerte! (¡Buena suerte!)
Hasta pronto amigos,
Claudia,
The team of
OnlineFreeSpanish.com
A Fun Way to Learn Spanish
For kids of all ages.
Facebook: onlinefreespanish
Twitter: freespanish
YouTube: onlinefreespanish
Pinterest: freespanish